About Us
Our Doctors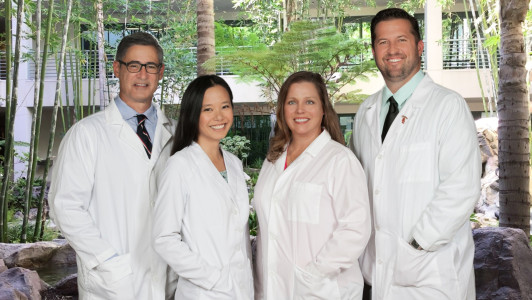 We would like to welcome you to our practices and thank you for choosing us for your dental needs.  Our practice provides comprehensive preventative care as well as comprehensive restorative treatment.
Our Dental Offices are dedicated to providing the most up to date general, orthodontic and family dentistry.
Our offices have grown to provide a world class facility for the treatment of tooth loss, dental cosmetics and advanced restorative dentistry.
We are among the most qualified implant providers in the US with over 60 years of combined quality training and experience.
The goals to our offices are :
-to help our patients gain and maintain excellent dental health
-to help earn our patients confidence and trust in a professional,
comforting and caring atmosphere
-to make our patients oral health care needs our first priority
Our doors are always open to
new patients.
To become part of our dental family,
call our office at (714) 546-3000 Costa Mesa or (714) 842-2549 Huntington Beach
for an appointment.
Our Advantages
Accepting Most Insurance
Our offices can easily accept our patients with insurance cards and create the history of cases for each.
Using Innovative
Technology
All our surgeries are furnished with state of the art equipment and maintained at the highest standards.
Guarantee Success
of Treatments
Most of our treatments are covered by a long term guarantee which will be discussed with you before beginning treatment.
Certified Dentist
With many years of dental experience and experience with implants, we are experts in all facets of dentistry.
years of combined
experience
Our Happy Clients
I had x-rays , a cleaning and 2 filling done. Dr. Linh I think is how she spells her name is very nice and does her job well. Dr. Millar's whole staff is very nice and professional. Dr. Millar herself is also very nice. Contrary to one of the other reviews the office asked me if I wanted silver or porcelain fillings. Melanie, the office manager I think told me the difference between porcelain and silver was $40 each filling. I went with silver and had no cost to me. The office did not push me into anything I could not afford. I recommend Dr. Millar's office
Dr. Millar and her staff should be commended on making a dentist visit so enjoyable. More than a few dentists in the area could use a lesson or two from her. From the moment I walked in the door I felt as if they really cared about my comfort level and understanding of what was needed.
Dentist Susan Millar and her staff are great! They got me in on an emergency appointment and quickly resolved an issue I thought would take much longer. Appointments are accommodating. Text confirmations for appointments are convenient. I've had a cleaning, an extraction, and a bridge so far. The procedures have been almost painless. I highly recommend them!
Susan Millar is a real friendly and caring dentist. She is always looking out for your best interest and thoroughly explains the procedures. She is VERY gentle and I would highly recommend her to anyone looking for a new dentist.
Teacher
Online Appointment (Please indicate which location in your message)