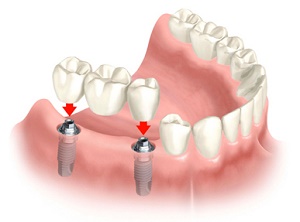 If you are missing teeth or wearing a loose denture, we can help.  Dental implants work to restore your smile and confidence.  We offer a wide range of options for patients based on their individual needs. The best option, especially if the missing tooth space has no surrounding teeth, is a dental implant. A dental implant will give you optimum functionality as well as an aesthetic solution.
Dental implants are artificial tooth root replacements that were first developed half a century ago by a Swedish scientist named Per-Ingvar Branemark. Implants arose from the patient's need to secure loose-fitting dentures. Since the advent of the implant, engineering and enhancements to the implant have enabled dentists to expand the implant's usefulness, including the replacement of missing or lost teeth. Today, implant techniques provide a wide range of tooth replacement solutions including:
Single/Multiple Tooth Replacement – An implant replaces both the lost natural tooth and its root. This is a great alternative to a bridge, which requires the teeth adjacent to the missing tooth be crowned. The implant's root also helps to better preserve the bone and keep it healthy.
Bridge and Partial Retention –  These dental implants will replace both your lost natural teeth and some of the roots without needing support from the adjacent teeth as with a traditional fixed bridge or partial. The implant's root also helps to better preserve the bone and keep it healthy.
 Upper and Lower Denture Retention – Dentures that are Implant-support are more comfortable and stable than conventional dentures, allowing you to retain a more natural biting and chewing capacity. In addition, because implant-supported dentures will replace some of your tooth roots, your bone is better preserved.
Implants are popular and the most effective because they mirror the size and shape of a patient's natural tooth root. This implant is often as strong as the patient's original tooth root. The implant or artificial root is placed into the jawbone under local anesthesia, then allowed to heal and integrate with the bone. Once the healing process is completed and the jawbone is attached to the implant, the patient returns to the dental office where the implant is fitted with the new tooth. This process generally takes two months.
Cone beam imaging: While a relatively new technology to dentistry, has already radically transformed the way that we as dentists can gather information, with the result being an ability to diagnose and treatment plan in a manner that previously could not even be imagined. The transformation from interpreting two-dimensional information to diagnosing from 3-D imaging, which allows for visualization of all structures in any given field, is a quantum leap … and one that has forever altered the way we must practice dentistry. This technology allows Dr. Millar to " place" the implant in its most optimal position and depth. This is very important because a  poorly placed implant without Cone Beam Imaging can lead to failure on the implant. Without the aid of 3-D imaging, doctors often must speculate on bone density or exactly how deep implants need to be. Dr. Millar can decrease potential risks and dramatically enhance predictability in results due to thorough analysis and preplanning.